Golden Age Care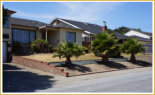 624 Cypress Ave,
Millbrae, CA 94030
License No. 415600471

Phone:
(650) 877-8258
or
(650) 678-1699
Fax:
(650) 877-8258
Alex Zitser / Polina Ratner, R.N.
Administrator / Director of Operations
Cell Phone: (650) 678-1699
goldenagecare@comcast.net
Welcome to Golden Age Care
"A place that you can truly call home"
Golden Age Care is a Residential Home Care Facility conveniently located in Millbrae, just minutes from El Camino Real. It offers top quality residential and respite care in attractive, comfortable accommodations and provides a service that is only comparable to an extension of the family environment.
At Golden Age Care, you'll find the comforts of home and more! From the beautiful garden and comfortable rooms to the friendly staff, we're committed to providing you with the warm and caring environment you've always wanted along with the 24-hour responsive staffing and assistance you need.
We provide understanding and encouragement as one enters the golden years. We want all of our residents to enjoy life to the fullest as they approach this new phase of living. We invite you to visit us and experience Golden Age Care.
* Golden Age Care is owned and managed by a Registered Nurse.