Golden Age Care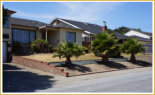 624 Cypress Ave,
Millbrae, CA 94030
License No. 415600471

Phone:
(650) 877-8258
or
(650) 678-1699
Fax:
(650) 877-8258
Alex Zitser / Polina Ratner, R.N.
Administrator / Director of Operations
Cell Phone: (650) 678-1699
goldenagecare@comcast.net
About Us
Every person is very important to us. We look at each client as a whole person with special needs and circumstances.
At Golden Age Care, all Residents will be encouraged to be in control of all aspects that involve their lives, whatever needs they have. The staff works with each individual client to improve quality of life. Residents are also involved in many decision-making processes in the Home, such as: choosing the decor for their own rooms and public areas of the home, selection of furnishings, planning menus and activities.
We believe it is important that residents have their independence promoted, their dignity upheld, their privacy respected, and a right to voice opinions and make decisions for themselves according to the best of their abilities. Assistance will be provided as needed.
It is possible to age with grace, dignity and purpose. Elders quickly begin to regain their health when they have a reason to do so. It is our blessing to supply that reason.
Whether you are looking to transfer someone already in care, or are investigating homes in preparation for a coming need, we believe you will agree, "We really are a Home with a difference".