Golden Age Care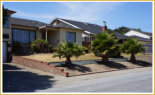 624 Cypress Ave,
Millbrae, CA 94030
License No. 415600471

Phone:
(650) 877-8258
or
(650) 678-1699
Fax:
(650) 877-8258
Alex Zitser / Polina Ratner, R.N.
Administrator / Director of Operations
Cell Phone: (650) 678-1699
goldenagecare@comcast.net
What to expect at Golden Age Care
At Golden Age Care, we'll do the work for you so you may enjoy a lifestyle free of tedious chores. The main focus of the staff is to provide a relaxed retirement for our residents. Among the many services and amenities we offer are:
housekeeping,
laundry and linen services
cooking and providing balanced nutritious meals
private furnished rooms
cable television
emergency call systems and intercoms
garden with park-like setting and outdoor furniture
medication monitoring
The local Church holds a praise and worship service once a month. Residents will be able to retain and contact their own general practitioner and other personal contacts e.g. hairdresser.
They may bring with them small items of furniture, pictures, and so on with prior arrangement with the Administrator.